Volunteer group hits 189 consecutive days of making free curries to deliver to needy families across Melbourne
Sikh Volunteers Australia have been donating food in Melbourne in COVID-19
The organisation deliver up to 900 meals per day to six councils around the city 
Meals go to the elderly, unemployed, health workers and COVID effected people
The food delivery service runs in honour of Sikh First Master Guru Nanak Dev Ji
Community generosity in time and donations allows them to continue their work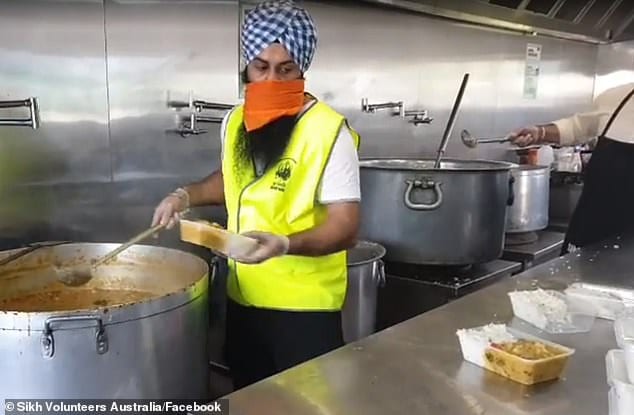 MELBOURNE, 22 Sep 2020:
(Courtesy of DailyMail UK)
A group of selfless Sikh volunteers have reached nearly six months of consecutive days donating hearty meals to families in need in Melbourne.
Sikh Volunteers Australia on Tuesday reached 189 consecutive days of donating free curries to disadvantaged people across the city.
The volunteer group posted a video to their social media channels on Monday showing chefs hard at work in the kitchen getting their food deliveries ready for the day.
Five volunteers are seen in the footage packing dozens of containers filled with rice, salad and curry as they listen to music in their industrial cookhouse.
Volunteer Coordinator Manpreet Singh told Daily Mail Australia the organisation's 189-day donation streak had happened organically.
'We started on the 18th of March for two weeks due to government lockdown announcements and it slowly increased to more days and just happened continuously,' Mr Singh said.
'We've had continued support from our community and volunteers so we kept extending our service out to nearly six months.'