Sikh Volunteers Australia team is currently onsite at the Queensland & NSW floods affected areas to provide support with freshly cooked vegetarian food. Any local assistance in the form of information about where is the service is required most, will help us hugely.
We also request local community to help us as volunteers. Please contact us on 0452601734
Update: –

The SVA Team has returned to Melbourne after 8 days (1 Mar to 8 Mar 2022), serving and supporting communities affected by the Queensland and NSW floods. We wish everyone a safe and quick recovery back to normal life and appreciate all the support from volunteers and well-wishers.
Flood Disaster Relief Support Coverage
8 March 2022 (Tues)
(Lismore, NSW)
Day 8 – After serving the Lismore and Evanshead communities for 8 days,  the SVA Team is heading back to Melbourne today. We would like to thank Satnaam Singh (Sunny), standing in the centre in the picture below. Despite of his own losses during the devastating floods, he still provided accomodation for the SVA Team at his home in Lismore. We also want to thank all local volunteers and community members who had helped the SVA Team run free food services and supported the nobel cause to serve humanity.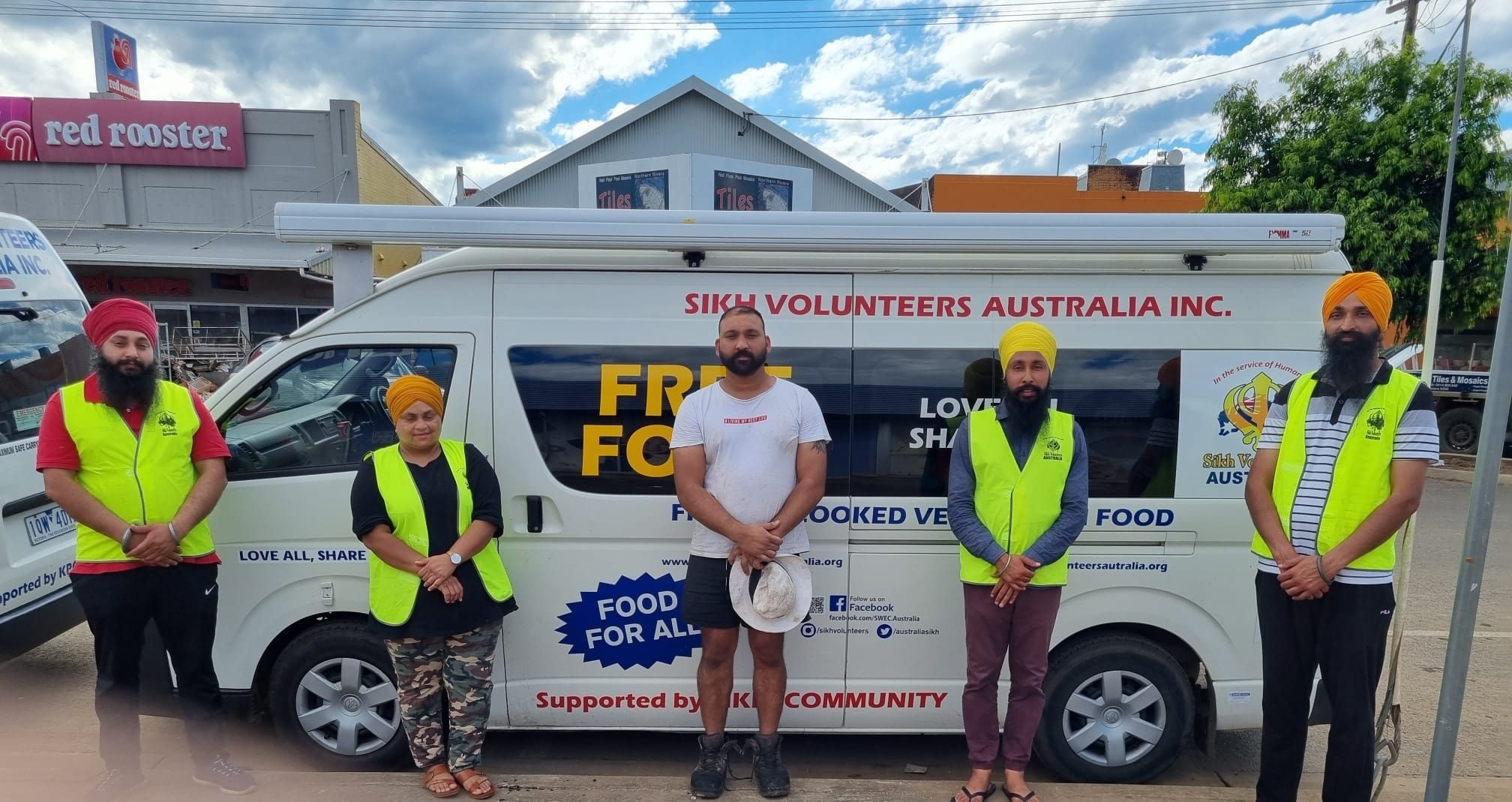 6 March 2022 (Sunday)
(Lismore, NSW)
Day 6 – Local communities at Lismore and Evans Head are expressing their gratitude in many ways towards Sikh Volunteers Australia. Last night a young singer greeted our team with almost 30 minutes of thanks giving songs. These memories and cherished moments will stay with us forever. Thank you to the unknown singer, thank you to the  Evans Head community, thank you everyone.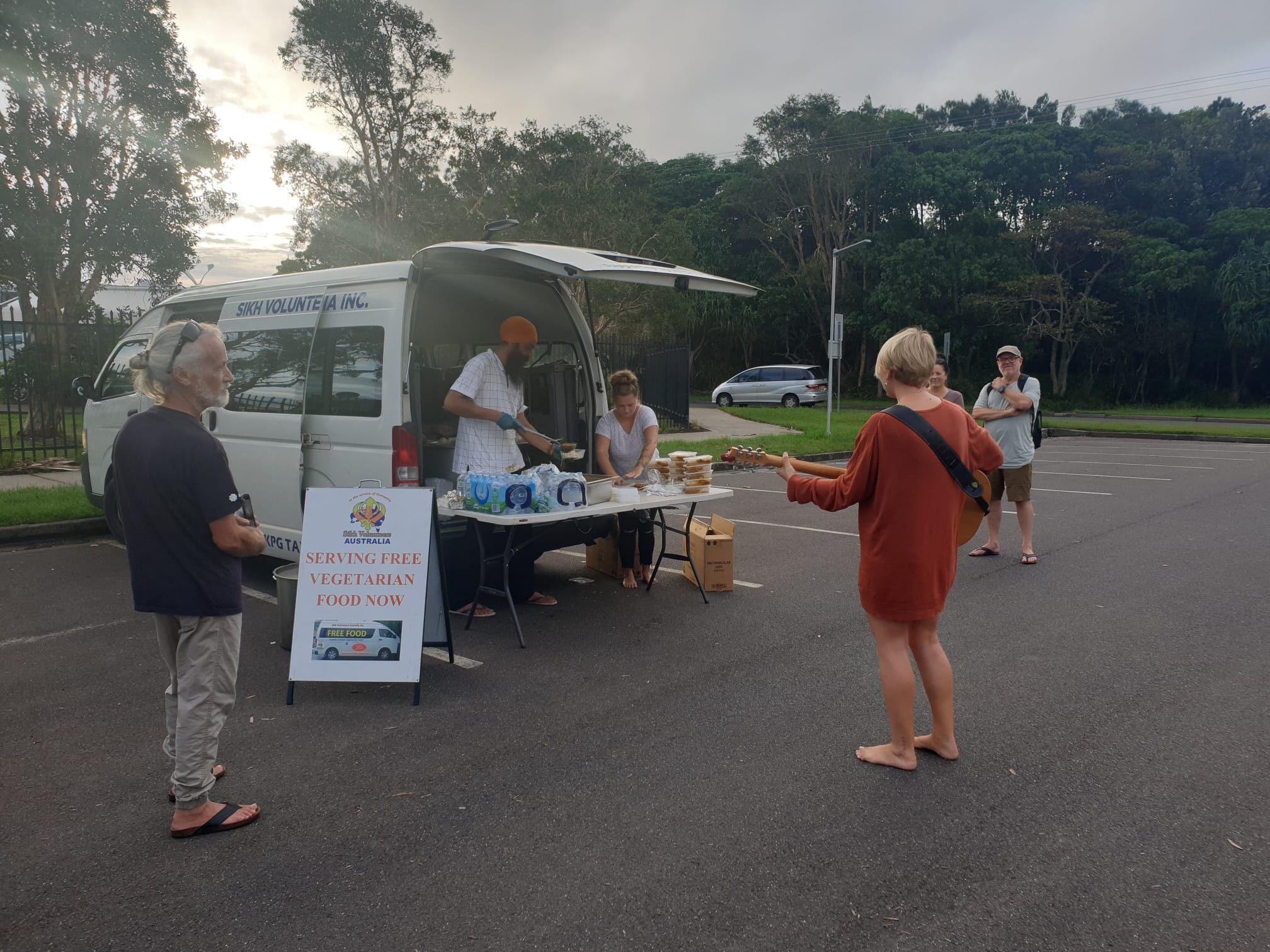 Our second SVA Free Food Van has been serving freshly cooked vegetarian meals in Evans Head, NSW for the last 2 days.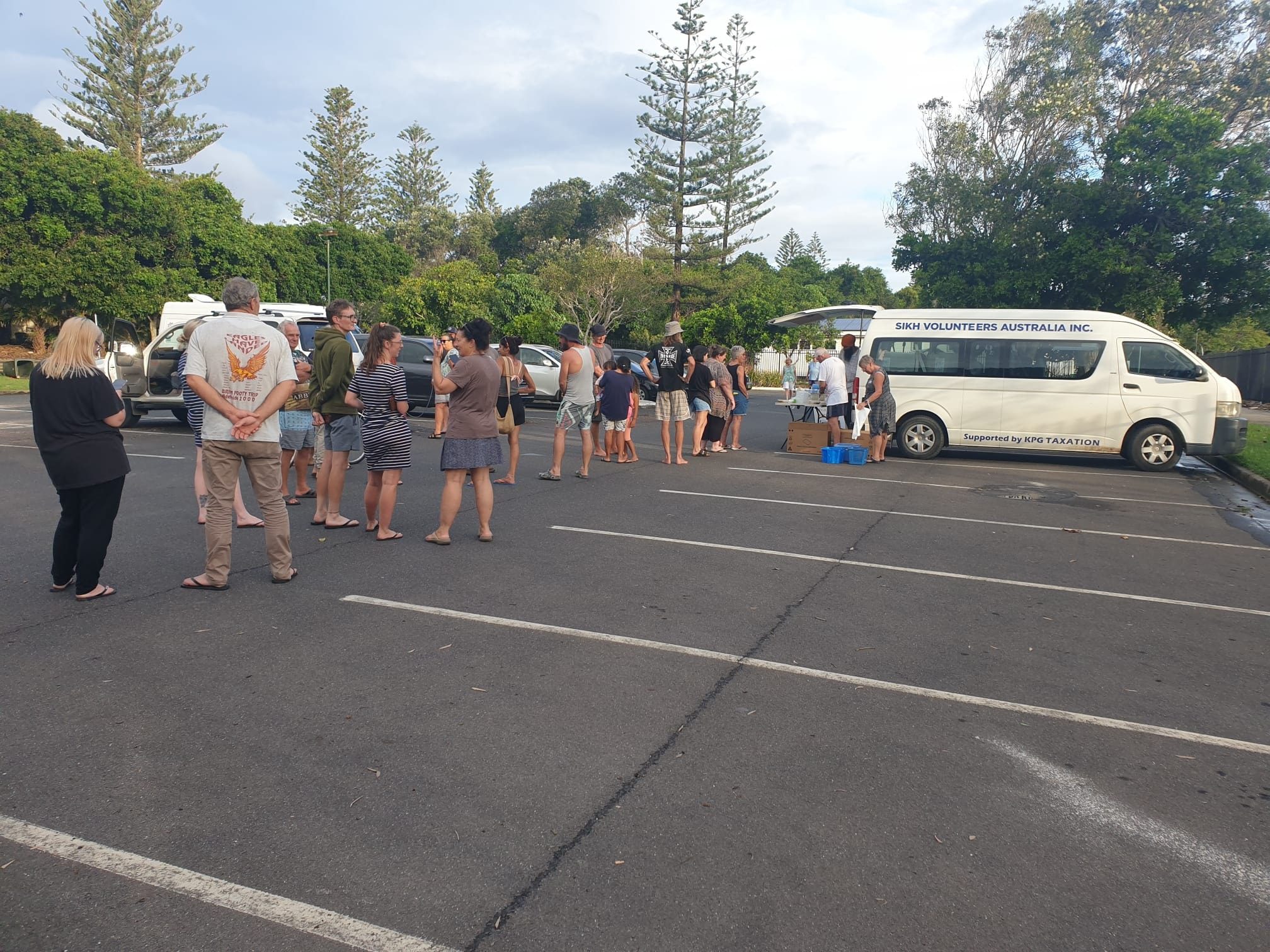 5 March 2022 (Sat)
(Lismore, NSW)
Day 5 – The SVA Team were thanked by The Hon. Janelle Saffin, the Member for Lismore. Who shared on her facebook page and conveyed the thanks from the community to the SVA Team.
"It was a pleasure to welcome the Sikh Volunteers of Australia to our community and thank them for making the 34 hour journey to get here. These people are legends and I know our whole community thanks them from the bottom of our heart."
– Hon. Janelle Saffin, Member for Lismore
3 March 2022 (Thurs)
(SCU Health Clinic, Lismore, NSW)
Day 3 – SVA
Team is serving at Southern Cross University evacuation centre.
2 March 2022 (Wed)
(Lismore, NSW)
Day 2 – After being on road for nearly 34 hours, the SVA Team has finally reached Lismore, NSW and has began serving the affected communities. We have set up on 60 Ross Street Goonellabah. Anyone who needs support with food, may come to this location.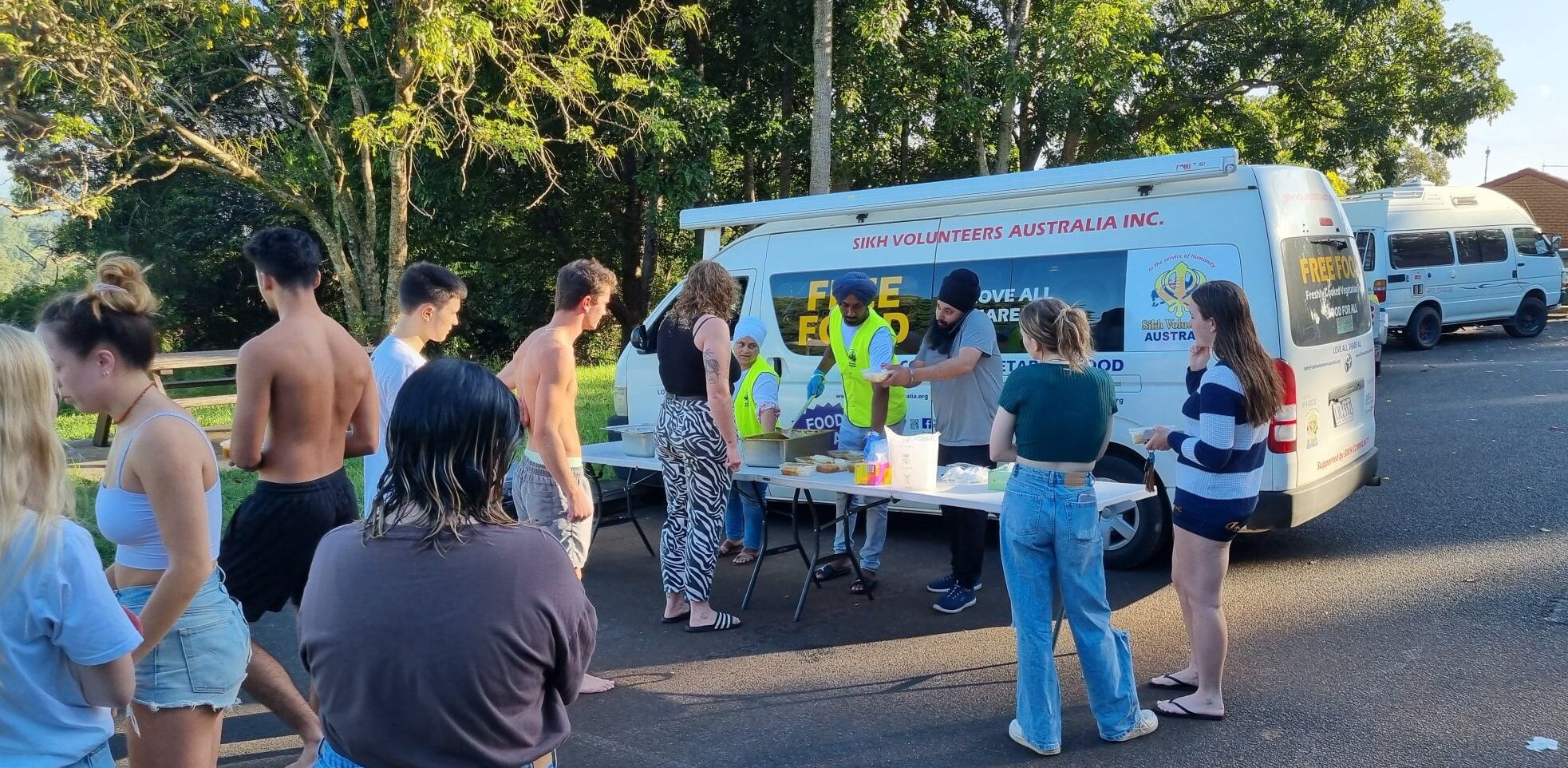 Freshly cooked meals packs are being distributed to the communities affected by the rains and floods.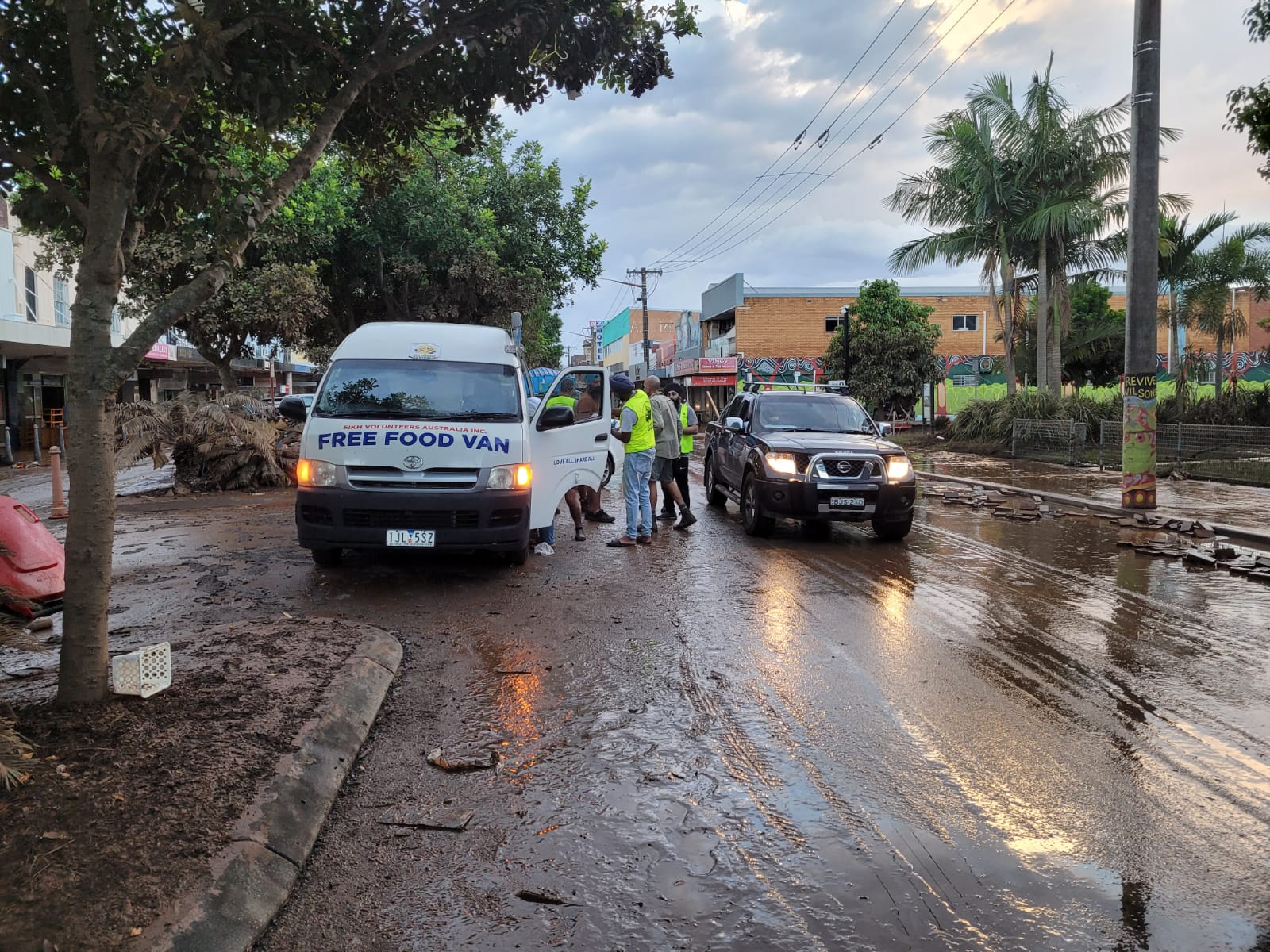 1 March 2022 (Tues)
(Newcastle, NSW)
Day 1 – SVA Team started meal preparation in Newcastle to provide packed vegetarian meals for truck drivers who are stuck at the Queensland/NSW border at the flood affected areas.
We are grateful for the support provided our friends in Newcastle in meal preparation for the truck drivers.
The SVA Team is now heading towards Woolgoolga, NSW.
1 March 2022 (Tues)
(Sydney, NSW)
Day 1 – Based on the community response since this morning, SVA Team has been updated that the support service is much needed in Lismore, NSW. The team is now heading towards the evacuation centres in Lismore, NSW.
SVA is requesting local communities in the area to inform us about any local operating kitchen facility which is available for hire. A possible site could be a neighbourhood house or a community centre.