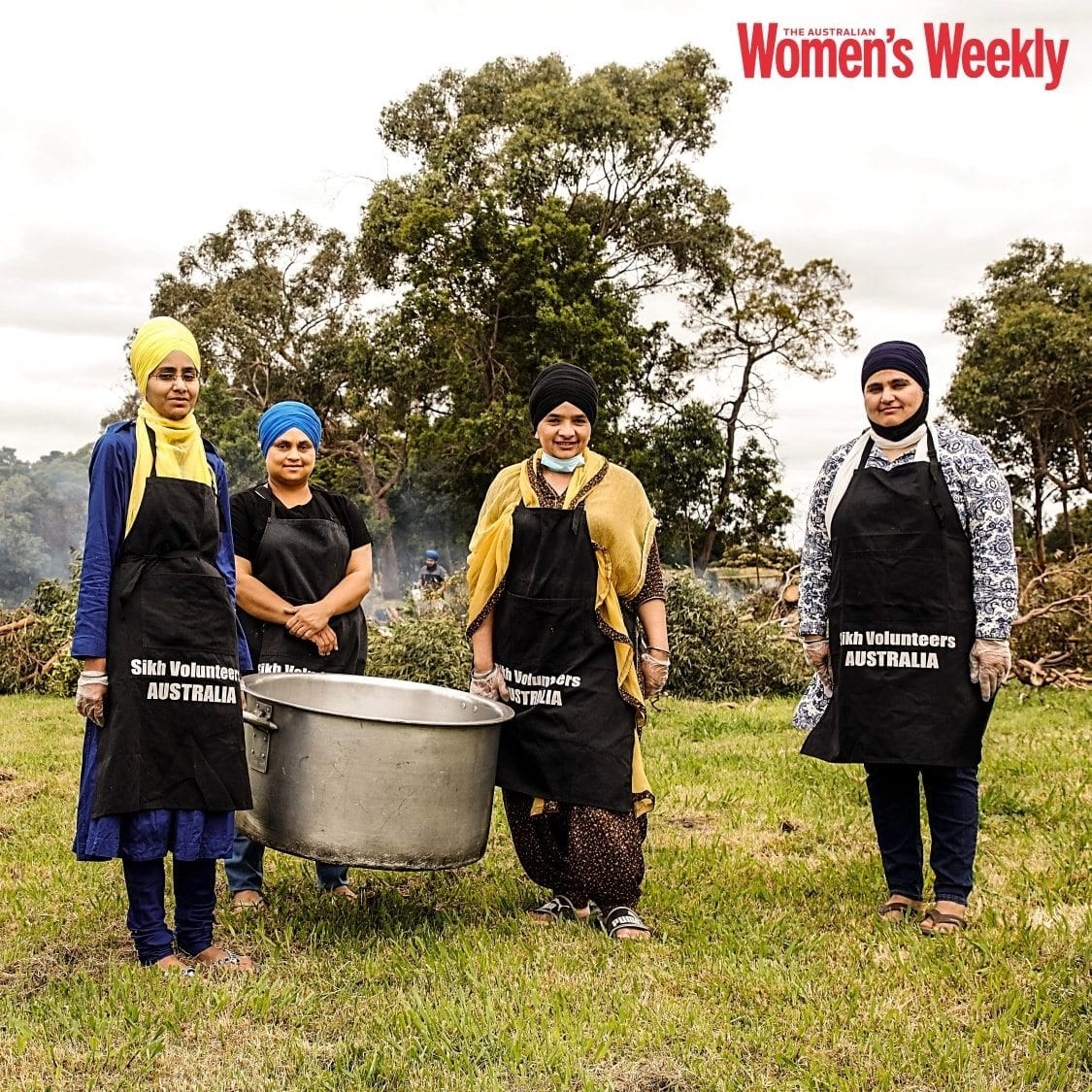 The Australia Women's Weekly (Christmas Issue)
by Sue Smethurst
All year, Sikh volunteers have been nourishing those in need with their hearty home-cooked fare. Sue Smethurst meets the people who sustained the firefighters in Gippsland and residents of the Melbourne towers in lockdown.
Pots of rich vegetable curry bubble away on the stove, the mouth-watering spicy scent wafting through an otherwise austere kitchen.
Since early morning, a small army of volunteers has gathered here on the outskirts of Melbourne and brought this unassuming space to life, peeling, chopping and dicing their way through an Everest-sized stack of potatoes, pumpkin, sweet potato and carrots, all brimming to the top of stainless-steel cauldrons. Within hours, these home-cooked curries will be nurturing and nourishing hundreds of families impacted by the COVID-19 crisis.
Just over three years ago, a small team of volunteers from the local Sikh community began delivering free food twice a week to the needy and vulnerable on Melbourne's southeast suburban fringe. What began as a goodwill gesture, to thank the community who embraced Punjabi immigrants, has blossomed into a much-loved and much-needed service. At their peak, Sikh Volunteers Australia served around 900 meals a day, seven days a week, becoming the face of hope, goodwill and humanity during Melbourne's exhaustive pandemic lockdown. They've delivered more than 130,000 meals this year.
"We want to give back to the community that has welcomed us," says Jaswinder Singh, the secretary of Sikh Volunteers Australia. "We have chosen Australia to be our home and we have been welcomed here and we are enjoying a beautiful life here, enjoying all of the freedom Australia has. We wanted to give back and make a contribution to the society that has welcomed us. It's our way of saying thank you."
By mid-July of this year, the wretched hands of COVID had reached around metropolitan Melbourne and were strangling the life out of the city. Infection rates, along with the number of deaths, were rising every day.
Melburnians, already worn down by the first round of distancing measures, watched in horror as a ring of steel fencing, along with a ring of police, was erected around public housing towers, effectively locking up 3000 of the city's most vulnerable residents. The towers, some 30 storeys high, had become infection hotspots, forcing the first lockdown of its kind in Australia.